| | |
| --- | --- |
| SKU | 7000028397 |
| Legacy SKU | 60980033538 |
| UPC | 00051131377202 |
| Part Number | 37720 |
This 3M™ Detailing Squeeze Bottle was originally developed for efficiently storing and dispensing auto body polishes, compounds, glazes, liquid wax and solvents. Fluorinated high density polyethylene construction resists paneling and helps preserve the integrity of common auto shop compounds. Squeeze bottle includes a removable spout top for easy dispensation and a cap to prevent spillage.
Ideal for auto body shops – originally developed to preserve integrity of 3M™ polishes

Fluorinated to reduce permeation, discoloration and paneling

Easy "ketchup bottle" style squeeze dispensation

Convenient 12-ounce size is easy to hold and use

Safe, long-lasting and cost-effective squeeze bottle for auto shop polishes and compounds
| | | |
| --- | --- | --- |
| Product Dimensions | Imperial | Metric |
| Weight | 0.052 LBS | |
Shipping Dimensions

Weight
2.1 lb
Length
15.125 in
Width
10.125 in
Height
7.25 in
For industrial/occupational use only. Not for consumer sale or use.
3M industrial and occupational products are intended, labeled, and packaged for sale to trained industrial and occupational customers for workplace use.  Unless specifically stated otherwise on the applicable product packaging or literature, these products are not intended, labeled, or packaged for sale to or use by consumers (e.g., for home, personal, primary or secondary school, recreational/sporting, or other uses not described in the applicable product packaging or literature), and must be selected and used in compliance with applicable health and safety regulations and standards (e.g., U.S. OSHA, ANSI), as well as all product literature, user instructions, warnings, and other limitations, and the user must take any action required under any recall, field action, or other product use notice.  Misuse of 3M industrial and occupational products may result in injury, sickness, death, or property damage.  For help with product selection and use, consult your on-site safety professional, industrial hygienist, or other subject matter expert.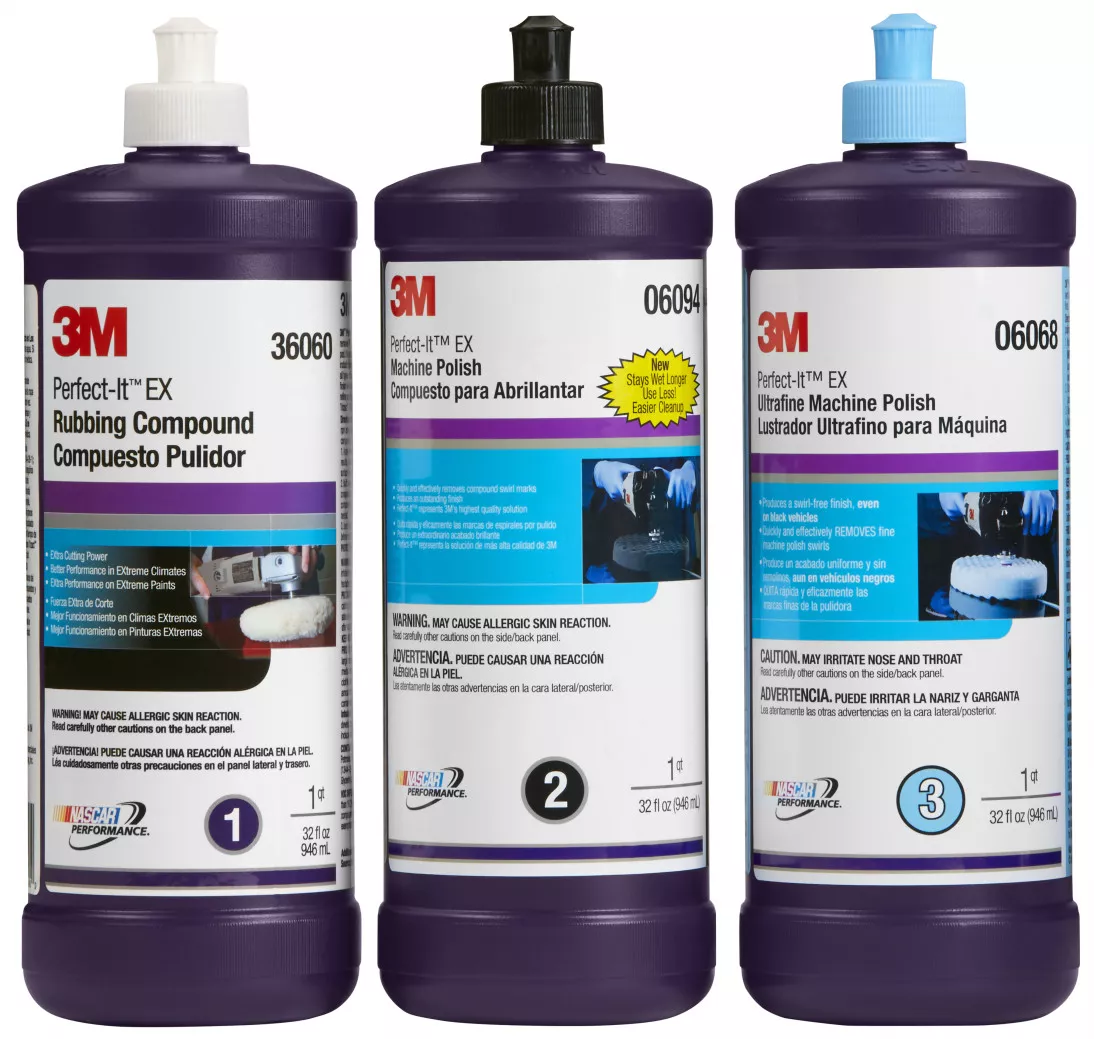 Originally developed to help dispense and preserve the integrity of 3M™ polishes, the 3M™ Detailing Squeeze Bottle is ideal for auto body repair specialists to cost-effectively store and dispense a variety of compounds. Suitable for materials commonly used in auto body repair and maintenance such as polishes, glazes and liquid wax, the bottle is made from high density polyethylene which is fluorinated to a Fluoro-Seal Level 3 or a NAMPAC "Ultra High Level" or equivalent. This material resists paneling and chemical permeation, prevents the loss of compound weight and resists the absorption of color or odor, allowing technicians to store polishes and compounds in the bottle and keep them conveniently on hand.
At the same time the Detailing Squeeze Bottle is flexible and allows for easy dispensation of product with a simple squeeze. A spout top twists off for easy refills. A red cap keeps contaminants away from compounds and prevents spillage.
Add to cart