| | |
| --- | --- |
| SKU | 7010399120 |
| Legacy SKU | 80611200223 |
| UPC | 00054007434238 |
| Part Number | MR283F075 |
3M™ Scotchcast™ Electrical Resin MR283F075 is a 2 part, oven curing, semi flexible, liquid resin that is useful for applications that require the highest level of protection. This filled epoxy based resin has a low viscosity property, which makes it easy to infuse on any surface. It is useful for applications including impregnation of coils, motors and other electronic components.
80 Shore D hardness

Has 30-minute gel time at 250 °F (121 °C)

Useful for moisture-proofing and insulating armatures, stators, buss bars and toroid cores

Withstands temperatures of 311 °F (155 °C)

Elongates 12% longer than its original size for easy insulation or wrapping

Thermal, shock-resistant and flame-retardant
| | | |
| --- | --- | --- |
| Product Dimensions | Imperial | Metric |
Shipping Dimensions

Weight
18.05 lb
Length
17.6 in
Width
8.8 in
Height
9.8 in
Brochures, Catalogs & Data Sheets
For industrial/occupational use only. Not for consumer sale or use.
3M industrial and occupational products are intended, labeled, and packaged for sale to trained industrial and occupational customers for workplace use.  Unless specifically stated otherwise on the applicable product packaging or literature, these products are not intended, labeled, or packaged for sale to or use by consumers (e.g., for home, personal, primary or secondary school, recreational/sporting, or other uses not described in the applicable product packaging or literature), and must be selected and used in compliance with applicable health and safety regulations and standards (e.g., U.S. OSHA, ANSI), as well as all product literature, user instructions, warnings, and other limitations, and the user must take any action required under any recall, field action, or other product use notice.  Misuse of 3M industrial and occupational products may result in injury, sickness, death, or property damage.  For help with product selection and use, consult your on-site safety professional, industrial hygienist, or other subject matter expert.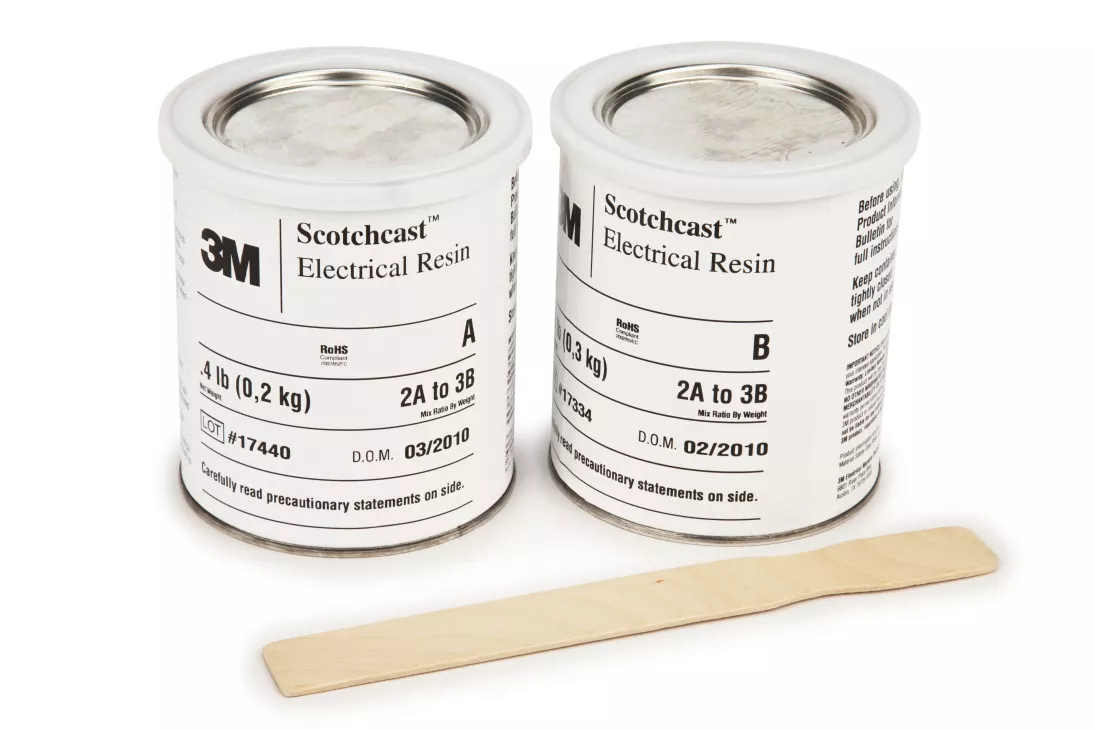 3M™ Scotchcast™ Electrical Resin MR283F075 has a low gel point rating to ensure a quick curing process in warm environments. The filler that is used in the electrical resin is formulated to prevent shrinkage and stresses. It is ideal for applications that need excellent thermal shock and mechanical shock resistance. Its high dielectric strength offers good electrical insulating property to the resin. It has a high flash point, helping prevent any fire hazard in electrical components due to quick ignition. Since the resin exhibits a hydrolytic stability property, it minimizes quick chemical decomposition, thus providing long lasting usage. RoHS 2011/65/EU Compliant.
Add to cart